Latest News and Site Updates
Got news, articles, related links? Submit 'em here
04 March 2003 - Carol @ 22!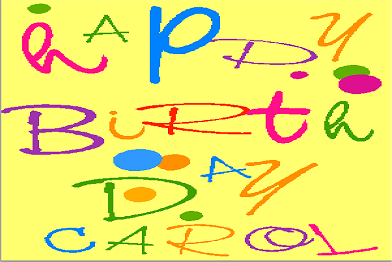 All my best wishes for a really Happy Birthday! ;)
26 August 2002
A medium-quality version of Stay can be downloaded at:

http://ftp2_cbzone.tripod.com/stay_256K.doc (7.53MB Zip)

I've also re-encoded the Together Forever video for improved quality...

http://ftp2_cbzone.tripod.com/together.doc (4.07MB)

Both files require Windows Media Player 8. You can download the file here. For Windows XP users, there's no need to download WMP8 since it has been built into Windows XP. Same downloading procedure.
24 August 2002
Two music videos are now ready for download. Windows Media Player is required.

Stay (6.99MB Zipped WMV)

URL: http://ftp_cbzone.tripod.com/stay.doc

Bakit Di Totohanin (2.71MB Zipped WMV)

URL: http://ftp_cbzone.tripod.com/bakit.doc

Here's an example on how to download these files.
23 July 2002
Download the ZIP file containing 13 high-resolution pictures shot during the SM City Cebu album tour/show. Thanks Lara for sending me copies of these picts.

Here's the link: http://carol-claire.tripod.com/smcebu_pix.jpg

Same procedure, after downloading, change the file extension from JPG to ZIP. CBZone Webmaster II, Gio, posted an example here...
22 July 2002
Jane sent these pictures courtesy of Lara...

... and still, I haven't recorded the "Stay" video yet. =(
17 July 2002
Thanks Jane for sending me these pictures...
16 July 2002
This is just a quick update to let everyone know that the video for Carol's latest single "Stay", was premiered yesterday (Monday) on SMV (Star Music Video).

I'll be posting screen caps and video once I get a copy the video, hopefully, before weekend. This time, expect for a higher-quality format than previously posted videos.
07 July 2002
I've already uploaded the Together Forever music video (with RJ Rosales). To download, copy and paste the link below to your download utility/manager. After downloading, change the file extension from DOC to ZIP, extract and view. The simplest way is to run WinZip (www.winzip.com) then drag the newly downloaded DOC file on it.

http://carol-claire.tripod.com/forever_64k.doc - 64Kbps WMV =( MPEG??? soon...
03 July 2002
Carol was in MTB yesterday during the game portion Kantaranta. Thanks Deanna for the text message, I was able to record it, on time. ;)

I've just posted 52 vidcaps from Sharon (aired last Sunday). You can view 'em here...
28 June 2002
Thanks Deanna for informing us about Carol's upcoming concert in Bacolod. It will be held at the Recoletos Gym of Univesity of Negros Occidental on August 16 at 7:30PM. That will be 48 days from now. =)

Carol is one the guests in Sharon this Sunday (June 30) at 7PM on ABS-CBN.
26 June 2002
No big updates! I'm still preparing and waiting for some materials, so hopefully, I could update the Photo Gallery and Multimedia Section later.

For now, the best thing to do is to interact with other fans, visit the Official Carol Banawa Messageboard (where Carol responded to most threads) or drop by at Carol's World Club.
19 June 2002
Carol will be guesting on Eat Bulaga! this Saturday, 12PM on GMA-7. And on June 28 @ 3PM, she will be at SM City Bacoor.

I've posted 52 vidcaps from last Sunday's episode of Wansapanataym dubbed Rapunzel. Carol Banawa played the main character in the story. Co-starred with her are (former boyfriend) Carlo Munoz and Ms. Cherrie Gil. Check 'em out here...